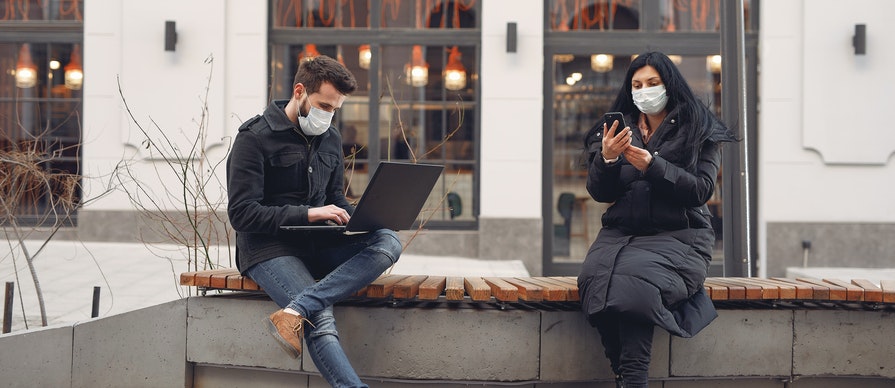 The entire world is suffering from COVID-19 epidemic medical practitioners, health experts and government officials are fighting a battle against the virus. They have advised maintaining a safe distance of 6 feet from others. In addition to washing hands frequently and maintaining social distancing are the two ways to "flatten the curve" to spread the virus. If the infections spread at a slower pace, that helps doctors and hospitals keep up with the demand for care.
Some folks have a wrong misconception about social distancing as staying alone. But the reality is that you can connect with others virtually and engage with them to gain positivity and remain healthy.
1. Connecting Digitally:
In the digital era, people are dependent on social media channels such as Facebook, Whatsapp, Instagram, and Twitter to stay connected with others across the globe. These platforms prove useful in communicating with others, learning virtually, and acquiring new skills. Try to interact with people in groups on these channels, gain positivity & keep your mind active.
2. Participate in Virtual Events:
As we know, the government has entirely told us to stay in our homes, so we are unable to keep ourselves physically active. So a solution to a problem is to engage in virtual events such as Yoga classes, Digital learning, E-meetings. The best part is most of the platforms are making this service available for free, so everyone can take advantage of it.
3. Make Family Bonding Strong:
Lockdown has given all of us a chance to stay with family & enjoy some quality time with them. Make a to-do list of all those things which were kept aside due to lack of time. To list down few activities comprises of
– Try cooking and eat meals together
– Take those card games out
– Remind those video games to play
– Learn survival skills such as cooking, washing clothes, dusting, home cleaning & so on
4. Connect with Neighbor:
Citizens have to clear the misconception of social distancing, which doesn't mean total isolation. You can roam around house driveways, yards, sidewalks to connect with neighbors to step outside of your house and connect.
5. Try Digital Options:
We all have an option to connect with our closed ones digitally by making a simple phone call.
Being emotionally connected with a person by hearing voices also will help you to boost your spirits. So try to contact your near and dear ones to let them feel you think about them. It might work as a healer too.
To conclude, we can say that working on increasing digital connections works best to engage with others and stay active. By following the tips mentioned above, it might work out best to socialize with others and not feel isolated. Try working on these small tips to see some great results.