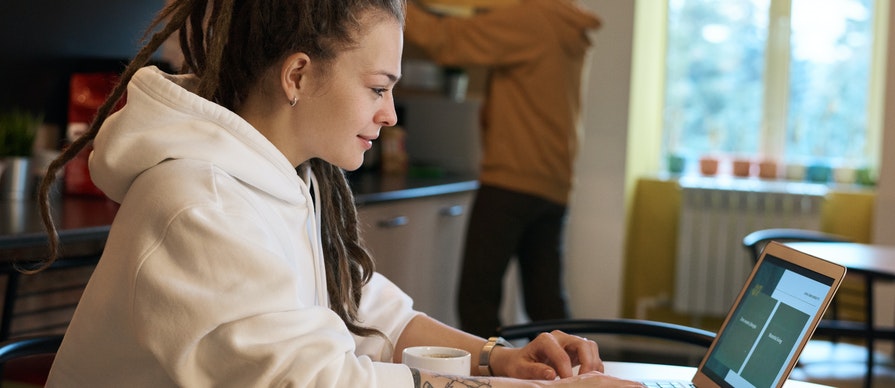 Nowadays many people are working from home. Everyone has to be very clear about when to start work, where to work, and how to balance our work life and personal life.
Here are some tips that will help you to be productive.
1. Make a permanent workspace: After spending a day on the sofa, the next day, you will think of the dining table. The workspace should be defined for every day, like our office, where the desk is fixed. Regardless of space, decide the area of your home where you are going to work and commit to working in this space every day.
2. Create a home office ambiance: Create a calming or inspiring environment such as putting some fresh flowers and task lighting.
Keep away the stuff that reminds you of household chores; otherwise, you will be distracted. It will help you stay focused on your workload and remain more aligned with an in-office experience.
3. Don't Work in Your PJs: We know, this is one reason why people love working from home. There is a corporate phrase, "Dress for success," it matters when you work from home. Get ready as you would if you were going into the office.
It will make the right mindset for work, and you will be ready to handle any video chat or check-in with a teammate.
4. Don't Work in the Living Room: This is another reason for less productivity. Some people might think "working from home" means watch TV, movies, and chill, but it is wrong. Avoid any of these digital distractions so you can work peacefully and getting things done. However, you can play lite music if you think it makes you productive.
5. Turn on the lights: Natural lights are good, but sometimes it can reflect on your screen. Turn on the lights, table lamps, or floor lamps. It makes you feel energetic.
6. Set your schedule: No matter how long you are going to work from home, a few days a week, or all the time, you'll need to plan out your daily schedule. Set your start time, break time. It will keep you on track for everyday tasks.
7. Take a break: Although you are focused on your daily tasks, sometimes you need to break up the day. Take a 10-minute walk around the block to freshen up, and to encourage the flow of new ideas. It will make you refresh and you will resume your work with good energy.
8. Discover Your High Productivity Periods: Everyone is productive at different times of the day. Some people are morning people, and they are most productive and focused in the morning hours. For others, their most productive time is in the evening. Know your productive time of the day and make a schedule according to that.
9. Log off: The important thing is some boundaries should be set for work from home. Log off for the day, not only for your laptop but for yourself. Just because you have access to work anytime doesn't mean you should be logged in 24/7. Spend some time with family and keep the work and personnel life balanced.
These are fundamental but essential things about work from which help to stay active and productive.