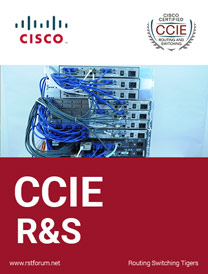 CCIE certifications these days is considered to be one of the top and elite networking courses. CCIE, an acronym for Cisco Certified Internetwork Expert is one of those training programs that strengthen the foundation of networking knowledge. Moreover, a single certification in this domain can lend you good job and a fulfilling career. Being considered amongst the best higher courses offered by Cisco, there are a number of ways you can opt to undergo for CCIE program. One of these is the Routing and Switching program.
CCIE Routing and Switching Program Requirements
This program is intended to recognize the experts for Cisco network holding essential skills to test, plan, deploy, maintain, configure and troubleshoot Cisco Network Solutions. However, the notable thing is that this certification remains valid for 2 years only. Thus, you will be required to recertify it every 2 years in order to hold the accreditation in this field.
Those candidates who want to gain this certification, they essentially need to prove their theoretical knowledge for the best practices in the domain, as well as, demonstrate them in the live working environment.
Necessary examinations for the CCIE Routing and Switching Certification:
In order to gain CCIE Routing and Switching certificate, you need to pass a written qualification test and further pass the hands-on the lab exam. However, a candidate is strongly recommended to have 3 to 5 years of experience before attempting such certification. A deep understanding of topics is also expected in order to pass the examinations.
Acquiring the Best Training
In a zeal to meet the changing scenario and meet the standards of the global market, you must go for best ccie training institute in India to get your Cisco Certification course. Look out for authorized training partners that will not only enhance your expertise and knowledge but will also make you compatible to IT Business environment and face competition of the market.
Check out if your training provider is offering complete learning material and resources to improve the technical knowledge. It might be anything like instructor based classroom sessions, remote access to online learning material, proper lab exposure and hands on to practical training.
CCIE Jobs
The main reason why more and more people are looking and getting enrolled for CCIE certification is the promise of better jobs. While having such certification to get a promising career and job security, it is not a magical key to success anyways. The journey through the certification will transform you into a better network engineer and thus, you can work to get your dream job without much fuss.
It might be one of the difficult yet rewarding computer certification in today's time. You can enhance your learning and understanding through elements such as mockup labs, manuals, certified trainers, and workbooks for the Routing and Switching, Security, and Voice tracks. However, nothing can be compared to the classroom training by experts.