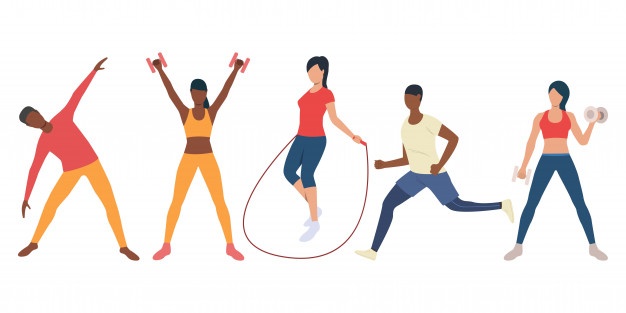 Physical Education teaches students the skills and confidence they need to participate in a variety of physical activities that will become a part of their lives both inside and outside of the classroom. With the support of a high-quality physical education curriculum, all children may enjoy and succeed in a range of physical activities. To be successful, they must master a range of skills. They consider what they're doing, assess the situation, and make decisions while performing.
They also evaluate their own and others' performance and seek ways to enhance it. As a result, children get the confidence to engage in a wide range of physical activities and recognise the necessity of leading a healthy, active lifestyle. School is a fantastic location for children to be empowered to take responsibility of their health since they spend so much time there. Physical education has the added benefit of making children more aware of what they put into their bodies.
Students who participate in physical education, according to study, are better able to regulate their behaviour and remain attention in class. Young people typically use sports to distract their focus away from their academic pursuits. It helps people to relax, let go of pent-up emotions, and spend quality time with their friends while having a good time.
Leadership and sportsmanship are developed via team sports in a structured atmosphere. By taking on diverse duties on a team and gaining new skills, students learn to respect themselves and their classmates. It also teaches kids to be patient with others and to help them out when they're having a hard time.
Students that participate in activities and athletics are better able to concentrate and maintain their attention, which helps them do better in school. This can lead to improved academic performance across the board.
Regular physical activity is crucial in the battle against childhood obesity. Obesity's various health risks, as well as the need of adopting a healthy, active lifestyle. Physical activities and their effects on the mind and body that are performed throughout childhood and adolescence are more likely to last into adulthood. They recognise the need of a well-balanced diet and recognise that fast food is insufficient to power their physical endeavours.
Students who engage in regular physical activity have been demonstrated to have better sleep quality. As a consequence, kids are more focused and have greater attention in school.
Physical activity benefits teenagers, particularly women and girls, since it helps them establish a positive body image, which is increasingly crucial these days. Sports teach children learn to be more self-disciplined, which may assist them in a variety of ways in their future life, from better regulating their emotions to becoming more self-motivated.
Even at such a young age, school kids may improve their teamwork and leadership skills by engaging in team sports. It strengthens peer bonds and fosters a healthy atmosphere among pupils. Physical activity boosts pupils' self-esteem in school. This might benefit them in a variety of ways, from personal relationships to their ability to quickly integrate and make friends, as well as thinking about their long-term goals.
Physical activity can assist children in dealing with stress and anxiety. Young people nowadays are certainly under more stress than ever before, so having a safe place to vent their grievances is essential. Sport helps children improve their motor abilities and physical strength. If children's fine motor skills are strengthened, they will be better at handwriting and playing a musical instrument.
Discipline is essential in athletics, and for both mental and physical. When engaging in sports, children must follow the rules and obey their coaches. On sometimes, they may have to accept verdicts with which they disagree. This instils in children a critical life skill that will benefit them for the rest of their lives. All of this means that physical education promotes mental and physical development, as well as improved social skills, personality, and self-confidence.
These are the reasons why physical education is so crucial. You can get the latest news and information about the top educational resources from the leading education blogs. There are several such online educational blogs, one of which is Education Know How, which covers the newest educational trends and changes. It is one of the best educational blogs. Put as much emphasis on your child's physical education as you do on academics.