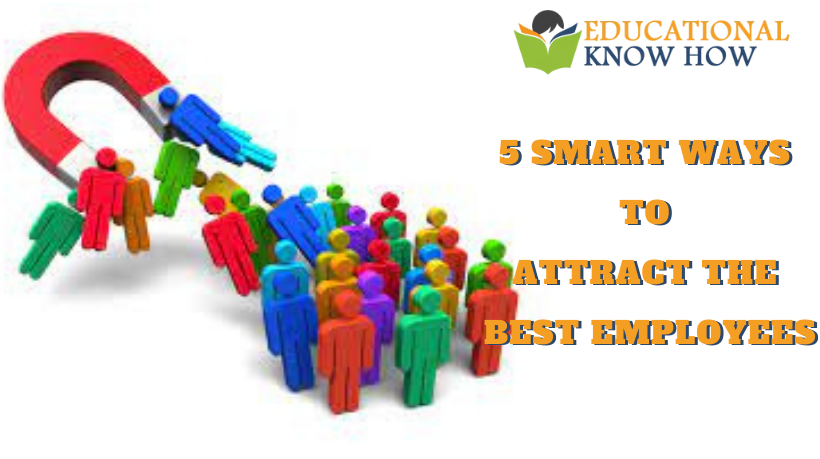 Every business wants to have the best employees. With so much competition, finding a career that suits their talents might be difficult. A high staff turnover rate can have a negative impact on morale and your company's reputation. Furthermore, it has the potential to be costly. As a result, when recruiting a candidate, they must be a good match for the job.
5 smart ways to attract the best employees are mentioned below:
When it comes to attracting the best employees, the first step is to establish a favourable working atmosphere. This may be accomplished by ensuring that your employees are satisfied with their salary and benefits packages, providing possibilities for promotion, and establishing necessary training programmes to help them feel confident in their responsibilities. When implementing your recruiting strategy, make sure your company is seen as a desirable location to work and that you have the greatest positions for millennials. Consider giving community service opportunities and flexible working hours for parents who require time off for their children's sports days to accomplish this.
When developing a successful recruiting strategy, you should always ensure that your workers are aware of their roles' obligations and responsibilities. This will assist them understand what is expected of them when they begin working for your organisation, leading to increased engagement. One-on-one meetings with each of your staff may be beneficial as part of this process to ensure that they understand their obligations. You'll be able to detect any reservations or worries about the position this way, and you'll be able to work with your staff to develop a great working relationship from the start.
Hiring a talent firm to help you will provide considerably greater outcomes. This will ensure that your goals are accomplished on time and on budget. You should always seek the services of an employment agency that can give dependable and trustworthy applicants.
When it comes to developing a successful recruiting strategy, you must ensure that your workers have the opportunity to grow and develop inside the organisation. You can guarantee that your workers have plenty of career-related goals and objectives to strive toward during their tenure with your firm by providing frequent growth opportunities. This will help your organisation run smoothly. This may be accomplished by holding in-house training sessions and seminars for your staff to acquire new skills and brush up on old ones. We also strongly advise using your company's tuition reimbursement scheme to allow your staff to pursue professional certifications such as diplomas and degrees.
You'll need to give a competitive wage and benefits package to attract top employees. If you have a successful recruiting strategy, you should receive applications from a large number of high-quality people searching for work in your field. As a result, you must make certain that your pay package is robust enough to compete.
One of the best professional development blog is Educational Know How. You can have access to top resources and articles on professional training. Get the latest updates about professional training courses, career specialized training, online educational news, and latest trends to carefully train your employees for productive engagement.