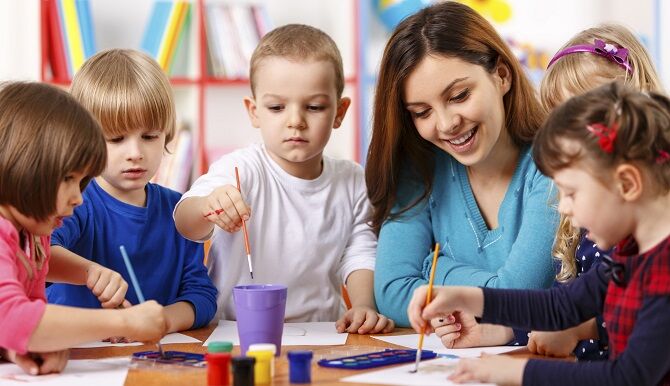 Summary: Nursery teachers are supposed to have a passion for children, a commitment to education, and the ability to monitor the kids for any social, behavioral, or developmental issues. Be a nursery teacher by getting experience working with children, taking the relevant Preschool teacher training courses and getting the necessary qualifications, and applying for a job at a school or daycare center.
Nursery teachers, often known as preschool teachers, are in charge of educating and looking after kids aged three to five. They aid in the preparation of children for school by instilling good habits and etiquette, as well as encouraging learning with storytelling, play, games, and experimentation. Their primary focus is on children's whole personal growth. They are also in charge of helping kids develop communication and social skills. The responsibility of a nursery teacher is to provide a second home for her students.
How do you go about becoming a Nursery Teacher?
There are a lot of vocational training institutes that offer pre-school teacher training courses. N.T.T. is a good place to start, as well as another alternative in the Early Childhood and Care Education/ECCEd Course. The minimum prerequisite for a primary teacher, for example, is a graduate along with a nursery training degree, certificate, or diploma. Candidates with a bachelor's degree in education typically begin their careers as elementary school teachers and work their way up. The candidate must be a graduate or postgraduate with a cumulative GPA of at least 55 percent and a degree or diploma in education or teaching.
Minimum one of the teaching areas must have been studied during the candidate's graduation. After that, individuals can get an associate's degree in childhood development or education to broaden their job prospects.
Required Skills for a Nursery Teacher
Nursery teachers must encourage children's mathematical and creative growth with stories, music, games, sketching, and imaginative play, as well as assist the growth of children's basic abilities, such as physical coordination, language, and communication.
Empathy, a sense of humor, communication skills, and a desire to lead and manage groups of lively children are all desirable qualities.
They ought to be able to create and design visual aids and teaching tools, as well as organize learning materials and resources and make creative use of them. They need to assist with the formation of children's personal, cultural, and language skills.
They might be able to foster children's curiosity and knowledge by collaborating with others, such as teaching assistants and nursery nurses, and also volunteer helpers, to schedule and coordinate activities both inside and outside the classroom, and sharing what they've learned with other practitioners and parents.
Updates in the curriculum and improvements in best practices for children should be kept up to date by the nursery instructor.
Resource box
If you are looking for Preschool teacher training courses online, then you have reached the right place. National Academy can be the ultimate center to enroll in and get the best nursery teacher training that can help you in becoming a good educator and help in building future generations.